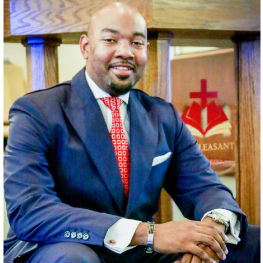 Pastor Earl M. Graham
Earl Michael Graham, Jr. is the dynamic and spirit-filled senior pastor of Mt. Pleasant Baptist Church, North Little Rock, AR. His biblically-sound teaching delivers the Word of God in a clear, relevant way to lead those to a personal relationship with Jesus Christ. Pastor Graham's vision of "Growing Into Something Greater" encourages everyone to use their spiritual gifts to carry out the work of the Lord. He is most passionate about today's youth and young adults in promoting intellectual, social, and spiritual growth.
Pastor Graham was both licensed and ordained at Longley Baptist Church, Little Rock, AR. His academic accomplishments include doctoral studies from Andersonville Theological Seminary, Camilla, GA; Master of Religious Education from Liberty University, Lynchburg, VA; and Bachelor of Science degree in Leadership and Ministry—Cum Laude from Central Baptist College, Conway, AR. He is currently pursuing a Doctorate in Educational Ministries (DEdMin) through Dallas Theological Seminary, Dallas, TX.
Pastor Graham is the author of the book entitled, "Answer The Phone: A Conversation About The Call To Ministry", that uses current phone features to correlate with the call to serve. This reading is beneficial to all persons who feel as though God is calling them to a new assignment.
A basketball enthusiast, Pastor Graham is a member of the Kappa Alpha Psi Fraternity, Inc.
Pastor Graham and his wife, Bianca, are the proud parents of three beautiful children—Layla, Earl III, and Elijah.