Reverend Earl M. Graham, Jr., Pastor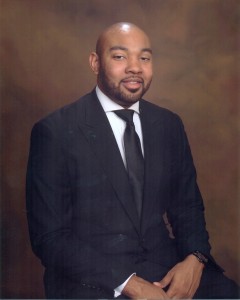 For many are called, but few are chosen. (Matthew 22:14) Pastor Earl M. Graham Jr. attended J.A. Fair High School, Little Rock, AR. In 2007, he enrolled in the University of Arkansas at Pine Bluff where he studied Business Administration. Upon accepting his call to preach, he transferred to Central Baptist College in Conway, AR where in 2011 he received a B.S. in Leadership & Ministry. He is currently seeking a Master of Divinity at Liberty University-Baptist Theological Seminary (Lynchburg, VA).
Pastor Graham was elected pastor of the Mt. Pleasant Baptist Church on October 12, 2015. Pastor Graham was both licensed (September 21, 2008) and ordained (July 6, 2014) at the Longley Baptist Church in Little Rock, AR under the leadership of Pastor Dwight D. Townsend Sr. Prior to being elected pastor of Mt. Pleasant, Pastor Graham served as Pastor of the Mt. Friendship Baptist Church, Curtis, AR.
Pastor Graham is married to Bianca Nicole Graham and they are the proud parents of three children, Layla, Earl III, and Elijah.
---
hr>
Reverend O. C. Jones, Pastor Emeritus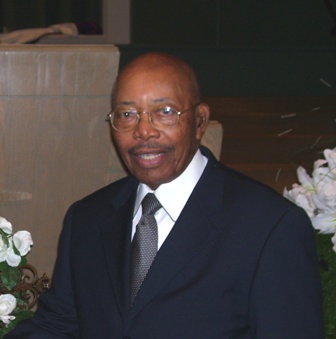 Dr. O. C. Jones is the anointed Pastor Emeritus of the Mt. Pleasant Baptist Church of North Little Rock, Arkansas. Pastor Jones is the oldest of seven siblings and attended Scipio A. Jones High School before being drafted in the United States Army. Upon his return, Pastor Jones attended and graduated from Dunbar Junior College.
Pastor Jones grew up in a home that feared the Lord and attended church with his family. He accepted Christ at the age of 22 and was baptized and united with the Mt. Pleasant Baptist Church under the leadership of the late Dr. Robert Dickerson, Sr. on Sunday, October 23, 1949. Pastor Jones accepted the calling to Christ. On April 23, 1953, he was licensed and ordained on January 16, 1957. He was anointed by the Holy Spirit to preach God's Word. He preached hi first sermon and was licensed on June 17, 1953. He was ordained on Sunday, January 16, 1957.
Pastor Jones is a graduate of Arkansas Baptist College where he received a Bachelor of Arts degree. He continued his education and graduated from the Southern Theological Seminary of Boyce Bible School in Louisville, KY. He also studied at Philander Smith College and the University of Arkansas at Little Rock (UALR) with emphasis in Special Studies. He is a certified instructor at GMC Bible Institute in North Little Rock, Arkansas. The GMC Bible Institute is a Satellite Program of the Morris-Booker Memorial College, a School of Religion in Dermott, Arkansas, which was organized by Pastor Jones and others in 1991.
On Friday, June 7, 1957, in a church meeting presided over by two ministerial members; Rev. Otis C. Jones was elected as the tenth Pastor of Mt. Pleasant Baptist Church. Under his leadership, the church has progressed and the membership increased. Since that his installation many projects and ministries have been the vision of Pastor Jones, including the Men's Prayer Breakfast, Yokefellow Ministry, New Members Training and many others.
As a "Top-Level" servant, he has worked many community, state and national organizations. He was a part of "The March on Washington" with the late Dr. Martin Luther King, Jr. and also served as a Spiritual Advisor for the former President Bill Clinton. As far back as 1958, Dr. Jones worked faithfully in the Middlewestern District Congress of Christian Education and served as president for 20 years. In 1984, Dr. Jones was elected President of the Regular Arkansas Missionary Baptist Convention, Inc. In 1985, Dr. O.C. Jones became the Associate Director General of the National Baptist Congress of Christian Education.
Pastor Dr. O.C. Jones is a man that is a loving preacher, teacher and dedicated community servant. He has baptized over 1600 Christ-added souls to the Church. He takes pride in the fact that he has baptized almost all of his family members. He lives the motto that he penned, "The Church Where Everybody is Somebody and Christ is All!" He is a man with an open heart and pulpit to young preachers in the surrounding area. He puts God first in his life.
He is married to the former Georgia Gatson McCain on August 24, 1991.